日本公主真子終于嫁給了平民男友小室圭
Japan's Princess Mako to finally marry commoner boyfriend Kei Komuro
2021-10-19
squart
21964
0
0
收藏
糾錯&舉報
譯文簡介
日本公主真子,將于本月和平民男友小室圭結婚。
正文翻譯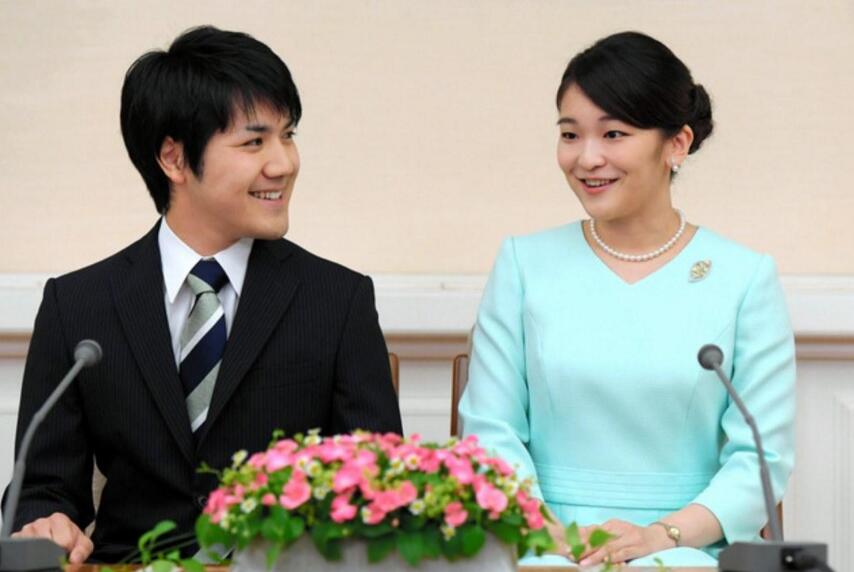 歷經波折之后,日本公主真子將放棄其皇室成員身份,在本月和她的平民男友小室圭舉行婚禮,婚后兩人不會第一時間就赴美定居開啟新生活,而是將在日本國內生活一段時間。
真子公主和小室圭的婚禮經歷了很多波折,早在2017年就傳出結婚的消息,但隨著小室圭一家的經濟糾紛和丑聞不斷發酵,兩人的婚禮被迫推遲,小室圭也于當年8月份赴美國攻讀法律專業,并在今年7月完成了紐約州的律師考試,現已確定將在紐約的一家法律事務所就職。
真子公主的出嫁將不會按照日本皇室的傳統儀式進行,真子公主也不會接受日本方面按照規定支付給出嫁告別皇籍公主的1.5億日元的補貼。
評論翻譯
Ray mak
She can tell her kids in future "mum was a real princess"

將來她可以告訴她的孩子們:"媽媽是一個真正的公主"。
Kailey Blaine
It is unfair that princes can keep their titles when they marry a 'commoner' but when princesses do that, they lose their title. That's quite sad.

王子與"平民"結婚可以保留頭銜,而公主(與平民結婚)則會失去頭銜,這是不公平的。這非常讓人難過。
·Satou Kazuma·
Imagine people asking her in NY what did you do when you were Japan?
Her: I was a princess

想象一下,人們在紐約問她,你在日本是做什么的?
她回答:我是公主。
iPettyNote
Wow… I felt like I was watching a Disney movie. Wishing them the best ???

哇,我感覺就像在看一部迪斯尼電影。祝他們一切順利。
Tom Hardy but not official
That's a modern fairytale love story. Best wishes to the couple.

這是一個現代童話愛情故事,向這對夫妻致以最美好的祝愿。
Leo Manoban
He better NOT cheat on her. Mako is such a kind soul

他(小室圭)最好不要欺騙真子,真子是個善良的人。
Liuhuayue
Imagine being willing to wait 3 years and give up your royal status and riches to marry someone. That's true dedication.

想象一下,你愿意等上3年,放棄你王室成員的地位和財富,去和一個人結婚。這是真正的奉獻。
HappyFandom
The fact that she let go of her princess position for her love proves that how deeply she loves him
I wish all the happiness for this amazing couple

她為了愛情放棄了公主的身份,這證明了她對他的愛有多深!
我祝愿這對戀人幸福美滿!
Gamer King
This feels like the happy ending to a manga that never ends.

這感覺就像一部永遠不會完結的漫畫的圓滿結局。
GR
"Did you do it?"
"Yes."
"And what did it cost?"
". . .Everything."

"你做到了嗎?"
"是的?!?br /> "花了什么代價?"
"我的所有..."
Erick Stieve
the anime series would be called
"I'm just a commoner who married the princess of japan"

這部動畫系列將被命名為"我只是一個平民,但我娶了日本公主?!?
Zeno
Man, anime these days are getting realistic.

天啊,現在的動漫越來越現實了。
senjuti tohra
I hope she doesn't regret her decision ever and her fiance stays loyal to her always.

我希望她永遠不會后悔她的決定,她的未婚夫也永遠對她忠誠。
Kliene Bacani
you can see in the gleam of her eyes how inlove she is. I'm wishing nothing but a genuine happiness to the both of them! ?

你可以從她閃爍的眼睛中看出她是多么地愛(他),我只祝愿他們倆幸福美滿!
Regulus Muphrid
Sometimes I forget that Japan is still a monarchy and has an Emperor, lol

有時候我忘了日本還是一個君主制國家,還有一個天皇,哈哈!
原創翻譯:龍騰網 http://www.mmg13444.com 轉載請注明出處


Nancy Margraff
Their wedding day is my 53rd wedding anniversary, so my wish to them is that they will enjoy as many happy, healthy years together as my husband and I have enjoyed. Blessings and best wishes to them both! ??? It's sad how many years this couple was forced to waste when they have clearly been in love since they met as university students. Their original wedding as planned years ago was postponed over some meaningless nonsense because of intense media scrutiny. Now that she has left her royal status behind and is leaving for a life in the U.S., I hope the public and the media leave this couple alone and let them enjoy their life together.

他們的婚禮是我結婚53周年紀念日,所以我希望他們能像我和我的丈夫一樣,在一起度過更多快樂、健康的歲月。祝福他們倆!這對情侶從大學時代就開始相愛,卻被迫浪費了這么多年的時間,真是令人難過。由于媒體的密切關注,他們原定于數年前舉行的婚禮因一些毫無意義的廢話而被推遲?,F在她已經放棄了皇室身份,前往美國生活,我希望公眾和媒體不要打擾這對夫婦,讓他們一起享受生活吧。
Clara Clara
Imagine having a princess fall in love with you, leave everything behind just to be with you. That man must really be something. Best wishes for them and I hope he treats her well.

想象下,有個公主愛上了你,拋下一切只為了和你在一起。那個男的真的很厲害。祝福他們,我希望他能對她好。
ros linda
She's willing to be a commoner. It has been 9yrs i heard about their relationship. So happy for her. And please be happy ??

她愿意做一個平民。我聽說他們的關系已經9年時間了。真為她感到高興,請一定要快樂??!
sato
If he was a nice guy like a fairy tale prince, the Japanese were ready to celebrate the whole country. Even in the past few years, the princesses of the royal family have married and left the imperial family, but they have received great blessings from the people.
However, the mother of the fiance Komuro has been accused of fraud by the Tokyo District Public Prosecutor's Office. And the past of his career fraud and bullying has been revealed. Now, the people are desperate to protect the princess from a dangerous marriage, but the princess is in a situation where she does not listen to anyone. The main reason for opposition to marriage is not about status or appearance, but about his hidden background.

如果(男方)是一個像童話王子一樣的好人,那日本人已經準備好整個國家進行慶祝了。在過去的幾年里,皇室的(其他)公主們也結了婚,離開了皇室,但那些公主都得到了人民的極大祝福。
然而,(真子公主)未婚夫小室的母親,被東京地方檢察官辦公室指控欺詐,她過去的職業欺詐和欺凌也被揭露出來?,F在,人們為了保護公主不受危險婚姻的傷害而不顧一切,但公主卻不聽任何人的勸。(日本人)反對他們婚姻的主要原因,不是因為(男方的)地位和外表,而是他隱藏的背景。
Nohemí Talavera
I remember seeing her as a baby in an old magazine, time went by so fast.

我記得在一本舊雜志上看到她的時候,她還是個嬰兒,時間過得真快。
Ayumi
Anime writers are going to be inspired by them ???

動漫作家將會受到他們的啟發。
aaleshia kim
I hope both of them have a happy future ???

我希望他們都有一個幸福的未來。
カリナ
I am Japanese and the core problem about this marriage is that Komuro Kei's mother asked the royal family to pay off the debt because they are becoming "a family". But the royal family's money mostly comes from citizens' tax, so in that sense I think Japanese ppl have right to comment on whether this marriage is appropriate or not. Of course no Japanese will accept the tax is used to pay a debt of a individual.
Also, under the imperial law, the royal family must not favorably treat or profit particular individuals. However, Kei Komuro got accepted to school in NY because he was the fiancé of the princess. He even stated he will become a husband to a princess on his resume to get accepted to a law firm. This can be a illegal action by the royal family by giving special treatment for him.

我是日本人,這場婚姻的核心問題是,小室的母親要求皇室替她償還債務,因為他們正在成為"一個家庭",但是皇室的錢主要來自公民的稅收,所以從這個意義上說,我認為日本人有權評論這場婚姻是否合適。當然,沒有日本人會接受稅收被用來支付個人債務。
此外,根據皇權法,皇室不得善待、或者讓特定的個人獲利。然而,小室圭卻因為是公主的未婚夫,而被紐約大學錄取。為了考上律師事務所,他甚至在簡歷上寫了"將成為公主的丈夫"。對他給予特殊待遇是不合法的行為。
原創翻譯:龍騰網 http://www.mmg13444.com 轉載請注明出處


·R·A·M·S·E·S·
I hope this marriage does not break the relationship between the royal family, May they both be happy and healthy always until old age, Lord Jesus Bless this marriage.??????????????????

我希望這樁婚姻不會破壞王室之間的關系,愿他們永遠幸福和健康,一直到老,愿上帝祝福這樁婚姻。
xiaorishu
Wishing them the best <3

祝他們一切順利。
Sang-Woo The Baddest
She will lose her title but she is with the person she truly loves. I hope they live happily forever after <3

她會失去她的頭銜,但她和她真正愛的人在一起。我希望他們永遠幸福地生活在一起
YoStugotz
Can't believe we still call people princesses and commoners in 2021.

真不敢相信我們在2021年還叫人公主和平民。
ProJusticeTV
I'm today years old learning that Japan still had a Princess

直到今天我才知道日本還有一位公主。
Purplee Eggspy
Hope her husband love her and protect her, also never betraying her. She gave a lot for marry him.

希望她的丈夫愛她、保護她,也不要背叛她。她為嫁給他付出了很多。
Hanana Banana
This man will tell his grandchildren "I married a princess " , that would be so cool

這個男人會告訴他的孫子"我娶了一個公主",那該有多酷!
Galuh wita
Im both sad and happy for her hope she doesn't regret this and have a happy life with her husband to be

我既為她感到難過又為她感到高興,希望她不會后悔,并和她的丈夫過上幸福的生活。
Heather Grey
I hope her parents tell her "You'll always be our princess." It's so rare to see a royal family give up royalty for a commoner. Wish they both an eternal happy life together ?

我希望她的父母告訴她:"你永遠是我們的公主?!币粋€皇室家族的成員,為了一個平民而放棄了皇室身份,這是非常罕見的。祝他們白頭偕老!
Eddy Chau
I hope it all goes well in the next few decades. NY is a fine place, for "commoners". Just want to point out, the divorce rate in American is right around 50%

我希望未來幾十年他們一切順利。對于"平民"來說,紐約是個好地方。我想指出的是,美國的離婚率在50%左右。
MariaHelena Jarvenpaa
I love Japanese people. They are so kind and humble people.

我喜歡日本人,他們是非常善良和謙遜的人。
Leon S Kennedy
People are willing to give up anything for their loved ones and be happy. Thats what makes us human.

人們愿意為他們所愛的人放棄任何東西,從而獲得幸福。這就是我們人類的特點。
Khaiyn
A real life Romeo and Juliet story! Fascinating.

一個真實的羅密歐與朱麗葉的故事!這真的令人癡迷。
Kenedy F ng
"The true anime protagonist"

"真正的動漫主角"
Dr. Otto Octavius
Hope this marriage lasts longer than celebrity's.

希望這段婚姻能比那些名人的婚姻更加長久。
原創翻譯:龍騰網 http://www.mmg13444.com 轉載請注明出處


Tajrin World
Real life fairy tale of a princess who could do anything for love.

真實童話故事里可以為愛做任何事情的公主。
Ernest Jay
As long as she's happy, she didn't really care about her royal status

只要她開心,她并不在乎自己的皇室地位.
GrimR34per
Imagine walking down the street in NYC and just casually running into the princess of Japan like bro what

想象一下,走在紐約的大街上,偶遇日本公主的樣子!
BBH-04 Sara
I hope Disney will make a movie out of this <

我希望迪士尼能把它拍成電影.
Lee
The power of love can outcome any hurdles. Loads of best wishes to this cute couple. However, it is sad that she can't keep her titles for marrying a commoner. I hope if this system could be changed

愛的力量可以跨越任何障礙!謹向這對可愛的夫婦致以最良好的祝愿。然而,遺憾的是,她因為嫁給了一個平民,而不能保住她公主的頭銜。我希望這個制度可以改變!
— Antaeque —
It must've been hard to let go of a life she was so accustomed to but again, happiness comes in many shapes and forms and I hope that this will be an everlasting one. Best wishes for the couple!!!

要放棄她已經習慣的生活一定很難,但幸福有很多種形式,我希望這是永恒的。給這對新人最美好的祝愿!
Myggy Ch. みぎ
Looks like the protagonist finally showed up.

看來主角終于出現了。
Oma Chioma
I wish them a happy forever kind of love. In this day and for the princess to relinquish her royalty because she is in love with a commoner... that word 'commoner' leaves a sad taste in my mouth.

我祝愿他們永遠幸福。就在今天,公主放棄了她的皇室成員地位,因為她愛上了一個平民…"平民"這個詞在我嘴里留下了一種悲傷的味道。
Kama
They should make an anime out of this

他們應該把這個做成動畫。
SushiH
I'm happy for the princess! I hope she lives happily ever after with her prince :)) also hoping she would be able to recover from PTSD and that the couple will find true happiness ??

我為公主感到高興!我希望她能和她的王子幸福地生活在一起,也希望她能從創傷后應激障礙中恢復過來,希望這對夫婦能找到真正的幸福!
BTS ARMY FOREVER
Their love makes me believe that true love really exists.

他們的愛讓我相信真愛的存在。
Vincent Lui
I sincerely hope she will become a princess of people's hearts.

我真誠地希望她能成為人們心中的公主。
RockyStClaire
You can see the happiness in her eyes ??? congrats to the couple and families

你可以在她的眼睛里看到幸福,祝賀這對夫婦以及他們的家庭。
A
This is like a Fiction Story... Where the main character does something epic and becomes the king

這就像一個虛構的故事…主角做了一些史詩般的事情,成為了國王。
Hasala Rathnaweera
I wanna see an anime adaptation of their love story ???

我想看一部根據他們的愛情故事改編的動漫。
原創翻譯:龍騰網 http://www.mmg13444.com 轉載請注明出處


yzkkoch
true love at its finest

最完美的真愛。
Elicia Pera
I wish them a wonderful life together and may their dedication to each other create a marriage that grows stronger each day. It's not easy, but when you choose the same person every day, everything you go through together gives strength to all the future holds.

我祝愿他們幸福美滿的生活在一起,也祝愿他們對彼此的奉獻使他們的婚姻一天比一天牢固。這并不容易,但當你每天選擇同一個人時,你們一起經歷的一切都會給未來帶來力量。
MaxRobertoErikson
Their wedding will be three days after her 30th birthday, which is two days before MY 30th birthday, which is on the same day as one of her cousins' 38th birthday.

他們的婚禮將在她30歲生日后三天舉行,也就是我30歲生日的前兩天,而我的30歲生日和她的一個表姐的38歲生日是同一天。
JDR Pan
Nice, another matchmaking made in heaven because it was tested through years hardship and complication.

很好,又一個天作之合,因為它經過了多年的艱難和復雜的考驗。
?mellow
I wish her and her husband all the best… after all theyve been through they deserve it

我祝愿她和她的丈夫一切都好,畢竟他們經歷了這么多,這是他們應得的。
Lichi Chan
This would make a great Anime plot

這將會是一個很棒的動畫情節!
23Bumolo23
The two of them are adorable! Best wishes for this couple.

他們兩個太可愛了!祝福這對新人。
原創翻譯:龍騰網 http://www.mmg13444.com 轉載請注明出處


Адиль
I read the comments saying that they rejected the marriage because of the husband's history, there's a lot of financial? Problems and it has not been resolved yet, idk about the truth this is just what I've gathered from reading

我看了評論,說(日本人)拒絕這樁婚姻,是因為丈夫過往的歷史,有很多財務的問題?問題還沒有解決,我不知道真相,這只是我從閱讀評論中得到的。
原創翻譯:龍騰網 http://www.mmg13444.com 轉載請注明出處


Ane Mari
I remembered watching a video about her life before. And now she's finally getting married!

我記得以前看過一個關于她生活的視頻,現在她終于要結婚了!
Ash Loti
Once a princess, always a princess. Wishing her a happy married life.

一朝為公主,永遠是公主。祝她婚姻幸福。
Yo Whazup
If shes happy, im so happy for her

如果她快樂的話,我真為她高興!
kocho shinobu
Aww they look so cute together I hope they can live happily

他們在一起看起來好可愛,我希望他們能幸福地生活!
Tm Misunderstood
This kind of true love is rare nowadays ???

這種真愛現在已經很少見了。
sammy
Their marriage is criticized in Japan, not because he is a commoner, but because he is the kind of man that even commoners avoid marrying.

他們的婚姻在日本受到了批評,不是因為他是一個平民,而是因為他(小室)是那種即使是平民,也會避免結婚的人。
EMY MADAM
The love wins in the end ??????

愛最終贏了。
原創翻譯:龍騰網 http://www.mmg13444.com 轉載請注明出處


dnai???
All the best wishes to them <3

向他們致以最美好的祝愿!
chihaya ayase
These days, I realised marrying a royal doesn't always end up happily ever after like in the fairytale. A princess have to give up her royalty to marry the person she loves, a prince had to step out from the royal family to protect his wife and baby... There's struggle there. But I'm happy that they still chose love in the end.

這些天來,我意識到嫁給王室成員并不總是像童話里那樣永遠幸福。公主為了嫁給她所愛的人不得不放棄王室(身份),王子為了保護妻子和孩子,不得不離開王室……這里面有一些斗爭。但我很高興他們最終還是選擇了愛情。
Jerry Vanchhawng
i wish they will be happy for the rest of their life ???

我希望他們能幸福的度過余生。
King Jester
I would love an invitation to this wedding, to see a prince and princess marry would be a lifetime goal of mine

我很想被邀請參加這場婚禮,看著王子和公主結婚將是我一生的目標。
原創翻譯:龍騰網 http://www.mmg13444.com 轉載請注明出處


tiada nama
It would be so crazy for their child to suddenly realise one day that her mom is an actual Princess.

如果有一天他們的孩子突然意識到她的媽媽是真正的公主,那就太瘋狂了。
Christine Stephenson
Congrats to them both I hope they have a happy marriage ???

恭喜他們倆,我希望他們婚姻幸福!
原創翻譯:龍騰網 http://www.mmg13444.com 轉載請注明出處


J_Verse
i'm so happy for them :)

我真為他們高興。
Kelvin Ng
I wish them all the best...stories like these doesn't happen everyday..

我祝他們一切順利。這樣的故事不是每天都發生的。
Bhavya Saxena
So when is Disney making this movie? ???????

迪士尼什么時候拍這個電影?
Shruti
No doubt Princess Mako is beauty ??
Congratulations to both !!

毫無疑問,真子公主很漂亮!
祝賀你們!
Homosapien
This guy can proudly say "A real Princess fall in love with me" ???

這家伙可以驕傲地說"一個真正的公主愛上我了"。
kjhjh.l jhkjl.
Princess Mako, ur always a princess no matter who u marry! U must really love this person...i hope he is worth it ?

真子公主,無論你嫁給誰,你永遠都是公主!你一定是真的愛這個人……我希望他是值得的!
Just A Wanderer
She's still a princess to the rest of us.

對我們來說,她仍然是個公主。
Meca Shii
I'm so happy for them!

我真為他們高興!
kucing cantik
may she and her husband live a happy life!

祝她和她的丈夫生活幸福!
Amethyst
Wow its great to see people still believe in true love ??? I am sooo happy foe this couple......

哇,看到人們仍然相信真愛,這真是太好了,我為這對情侶感到高興......
Hot Rod Mercury
It's precious, true love really.

這很珍貴,這是真正的愛。
Gaemer
he husband faced scrutiny due to something his mother did that was out of his control :/

由于母親做了一些他無法控制的事情,丈夫面臨著審視....
Tara Let's go
They deserve to be happy

他們應該得到幸福。
Mystery
And ladies and gentlemen that's what makes her a Real princess???

女士們先生們,這就是她成為真正的公主的原因。
meh ???
So in Japan, despite having gazillions of money in your bank account, if you're not a royal member, you're still a commoner?

所以在日本,即使你的銀行賬戶里有巨額資金,但如果你不是皇室成員,那你還是個平民?
Khaiwei Thresher
I really hope she'll be happy, and live the kind of life she actually enjoys.

我真的希望她快樂,過她真正喜歡的生活。
Nana 626
Awww they getting married on my birthday Congrats to them???

他們在我生日那天結婚,祝賀他們!
Sanamana _
Imagine her life in America when her friends or co worker one day just finds out that she was a Japanese royalty

想象一下她在美國的生活,當她的朋友或同事有一天發現她是日本皇室成員....
TenaciousdewSfx
I wish them the best <3

我祝他們一切都好。
Emma JK
So happy for them!!!

真為他們高興!
nia
May happiness always follow you our dearest Princess Mako. ??

親愛的真子公主,愿幸福永遠與你相伴。
Big Brain Time
Beautiful!

好漂亮??!
100 Video Project
What an amazing woman. Giving up status for love.

真是個了不起的女人。為愛情放棄了地位。
Random Content
This the day,it can start a new timeline for japan

這一天,它可以為日本開啟一個新的時時代。
Cak Redi
They should make a drama series inspired by this story.

他們應該制作一部以這個故事為靈感的電視劇。
tomahawk
I can picture her swearing in Boston accent at her neighbors

我能想象她用波士頓口音罵鄰居的樣子。